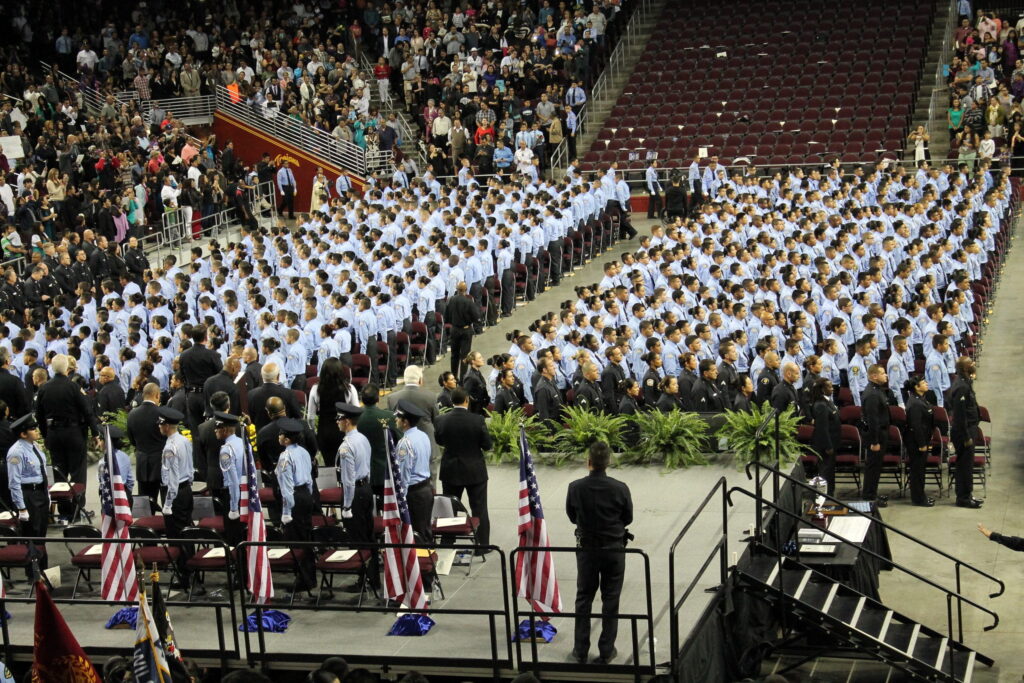 Since 1982, young women and men, ages 13 to 17, have partnered with the USC Department of Public Safety (DPS) to learn first-hand about law enforcement and emergency services. Cadets first attend an in-depth training academy where they're immersed in classes on criminal law, community relations, self-defense, and general safety among other topics. Once they've successfully completed their studies, recruits apply what they've learned to real tasks, performing a variety of community-based, non-hazardous assignments on USC's campus and throughout Southern California in association with the Los Angeles Police Department.
About the Program
This grant-funded program provides local community youth the opportunity to learn about crime prevention, work side-by-side with local activists and law enforcement, and serve your community. Cadets perform their duties under the supervision of full-time DPS officers who serve as Post Advisors. Cadets will:
Complete specialized training and physical fitness training
Attend crime prevention programs
Assist with traffic and crowd control, including USC football games and special events
Attend weekly study hall at USC's tutoring center
Complete community service projects
Attend regularly scheduled field trips and cadet social events
Requirements
To apply, candidates must meet the following criteria. Cadet recruits should:
Be between the ages of 13 and 17 years
Have at least a C average in school
Have parental consent to apply
Have no record of serious arrests or convictions
Be in good physical condition
Obtain a medical examination (to qualify for insurance)
Click here to apply now.
Additional Qualifications
In addition to the physical and technical requirements listed above, cadet candidates should also:
Have good moral character and desire to serve the community
Demonstrate a willingness to participate in cadet activities
Application Process
If you meet the criteria outlined above, please send an email including your first and last name to sguerra@dps.usc.edu letting us know you are interested in the program.
After receiving your email, a DPS staff member will contact you to confirm your eligibility and schedule an oral interview.
Following oral interviews, DPS will invite qualified candidates to attend its Cadet Academy.
Training
Recruits must attend and graduate from our Cadet Academy before beginning fieldwork. Academy training:
Includes approximately 96 hours of academics, physical conditioning and experiential classes at the Los Angeles Police Cadet Academy in Westchester
Extends over 15 consecutive Saturdays
Consists of classes on criminal law, community relations, general safety, alcohol/drug awareness, police procedures, drill and ceremonies, physical fitness and character development
Download our brochure in English or Spanish.
Follow us on Instagram! @usc_dpscadets